So a couple of days ago, I realized that I had the 40 dollar burning in my pockets and since it was a beautiful day and I could have only spend it in one place I hitched up my wagon (my RAV4) and drove to
McKay
's. Here in TN this is a one stop shop. They have used books, used movies, tapes, gaming systems, vinyl records, board games, all of it and at really good prices. I got all the items in the picture for less than 40 bucks. That was the best damn 40 bucks I have ever spent.
If you are ever in Tennessee they have three locations in Knoxville, Chattanooga, and Nashville.
My next trip there will be later in the summer, I'm going to go over all my books shelves and see what I can trade in for some other goodies.
So yeah, I'm really happy with what I got. The Addy books were 1.50 each (
old America Girl books
). The Janet Jackson CD was the best 2 bucks ever spent. And yes, what you see is the whole
Fifty Shades of Grey series
, it was a 2.75 for all three, couldn't pass that up (Say what you will about the books, me no care, I think they are some of the best trashy books that I have ever read). I'm always looking for some new
Walter Mosely
to add to my shelves. Aretha Franklin vinyl for less than 5 bucks with all her best songs? Yes please. And I am not a shame to say that I am a Veronica Mars fan. Have you see that show? Its perfect.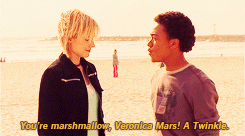 That's all folks, let me know if you have ever read any of these books, or if you're a Marshmallow! Latas!