W
e have made it to December folks! Happy Holidays! And all that holiday cheer to you and yours! I hope you holidays are filled with love and warmth (if you reside in colder climates) and may your days be filled with the magic of the season. Lets get to the books that I plan on/hope to read in the month of December. I have a lot to get through to finish out my Goodreads goal of 140 books for the year. I think with this I'll come in right at 100%.
T

he

P

ower

was my October BOTM pick and ever since I got it and

Artemis

in November, they have been on my mind something serious. And no doubt due to their popularity on social media I just have to give these books a shot. I will link to their Goodreads pages since I am not really sure as to what they are about since I want to go into them as blind as can be.

M

ama

D

ay

has been on my radar for a while, and I'm not sure if I had it on here before, but reading this book will help me for fill one last goals for the year and that was to read a Gloria Naylor book. And since I already have the audiobook for it, this is my choice. Once again, I'm not sure of what this book is all about, but It interests me.




B

eloved

is another book that I have decided to read for two reason: 1. It will help me read at least one Toni Morrison book (it was a goal of mines) and 2. It will help me get a feel for her writing since I believe on instagram, Didi from

BrownGirlReading

had mentioned reading a Morrison book for #ReadSoulLit in February which I would like to take part in. I have seen the movie years ago and it kind of freaked me out, but I'm older now I think I can handle this.
N

OS4A2

is probably my most favorite Joe Hill book,

The Fireman

coming in second and

Horns

coming in third. I read this at the end of 2015 and

LOVED IT!!

So in the spirit of the book and the season, I have to reread it.

A

n

E

xtraordinary

U

nion

I had won this book from Twitter earlier this year, I believe it was from

Mocha Girls Reads

(they pick some great books for their book club by the way) and I have been meaning to read this. It wasn't until

BlackChickLit

had mentioned that they were reading it and discussing it that it once again came on my radar so now I have to read it and listen to the podcast and engage because It just sounds like a great book. The second book just came out last month. So I'd like to be caught up if I can.

T

he

S

ecret

H

istory

Donna Tart has been an author that I have seen nonstop all year and while I own two of her three works I haven't gotten to them yet and this month I will. All I know is that this revolves around a murder and honestly that all I need to know to enjoy this book. I just hope that it loves up to all the hype surrounding it and not be a snorefest. *crosses fingers*
T

he

W

armest

D

ecember

is the next Bernice L. McFadden book that I want to read before the years end. And since the word December is in the title, it just felt like a sign. I have no doubts that this book is both going to make me feel deeply and there's a small chance that tears will appear. I can't wait.

A

G

athering

o

f

O

ld

M

en

will be my second Earnest Gaines book after having read

A Lesson Before Dying

in high school and loved it.

AGOOM

I believe it is a mystery taking place in Louisiana on a sharecroppers farm in the 1970s. I know it's going to chuck full of racial tension with nuggets of social commentary. I'm here for it.

B

rown

G

irl

I

n

T

he

R

ing

by Nalo Hopkinson will be the first of hers that I will read. Science fiction/fantasy books written by black women/women of color has definitely been a thing for me this year. Yet from looking at the reviews on Goodreads, not many have liked this book, or pretty much felt meh about the whole things, but I'd like to give it a try. I also have

Skinfolks

by her on my kindle that I can substitute just in case this isn't hitting the mark.

A

nd if I just so happen to have some time left, which I doubt, I want to get to

Harry Potter and the Socercer's Stone, Chamber of Secrets

and

Prisoner of Azkaban

because my library finally had those beautiful large

illustrated versions

of the books and I just can't turn those back in without a read. With that I leave you dear reader, but not without some Tuxedo Mask!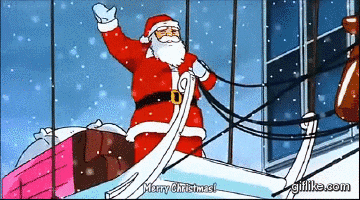 Merry Christmas
and
Happy New Year!