I am so proud of myself, hello and welcome back to my first wrap-up of the month. I'm happy to say that I have ticked off one of my goals for the year and probably even more amazing is that I have read not one but two 1000 plus page books in one year. That is a feat all to itself. I would have never imagined myself doing something like that. I have before you, three of the first books that I have read for this month, two being on my list and one graphic novel that I was able to get from #NetGalley as a review copy of. So let's get to it, shall we?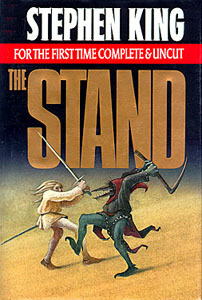 T
he
S
tand-
⭐⭐⭐⭐
More like 3.75-star book, but I'll let it be. This was a
big book
. And I'm happy to say that I have finally read another SK classic, this baby has been loved by many and while I thought the plot was good, it was really the characters that I really liked best. It was them that really kept me going.
The Stand
is a post-apocalyptic story of a virus, affectionally known as Captain Trips that was unknowingly spread across the globe and what we follow is at first the spread of the virus, the coming of the Dark Man, the survival of the ones left behind and the glimmer of hope in an old woman named Mother Abigail.
I really liked this book. It was said, by King himself that his version of the story has an
additional 400 pages
of writing added to it and while I enjoyed it, I did think there were moments where it could have been shorted and would still have been able to get his point across. Nevertheless, I really think that King is a master at his character development, even the people that you hate in his books have such depth to them and you find yourself maybe not rooting for them, but wanting to know more about them than some of the "good guys" in his tales. One character, for example, is Larry Underwood. His entire story arc/character development is amazing. I read this book in accompany with the audiobook read by Grover Gardner and he did a great job. I would definitely recommend this book if you are a fan of King's if you like character driven stories or tales of a world gone wrong.
Comes out July 17th, 2018 by

Gallery 13 Comics

look for my review

here

.

B

loodchild-

⭐⭐⭐⭐

This is the last book of Octavia E. Butlers books that I own that I hadn't read yet and I'm sad to say that I have now read all of her printed works (except for

Survivor

that's hard to find). I

LOVED

this short story collection, I love her writing. This short story collection contains 5 stories, 2 essays, and 2 new short stories never before published. All the stories were different, imaginative, and engaging. Her two essays were both supportive of the arts and encouraging to those of her readers that aspire to be a writer one day and don't write what would be considered "normal". She was told that her stories weren't good, she was told that they wouldn't sell, but she never gave up on herself or her writing. She wrote what she wanted to write, popularity be damned. My favorite works in this collection would have to be:

The Evening and the Morning and the Night, Speech Sounds, Positive Obsession

and

The Book of Martha.

What I liked most about this collection is that after each story and essay we got a little paragraph or two from Ms. Butler about how each story and essay came about and what she was thinking or what gave her the motivation to write such tales. If you love science fiction, short stories or any of Butlers works, I would encourage you to pick this collection up.

N

ext week is the

#BoutofBooks

22 Readathon. You can still sign up for the readathon as of May 9th. But it's a readathon that takes place over the course of a week, starting on Monday the 14th and ends on Sunday the 20th there are challenges for each day. I already have my TBR set up for the readathon and look out for my next monthly wrap up seeing how much I read. Til then.