This month I have one main goal and that is to finish the
Easy Rawlins Mysteries
by Walter Mosley. I have only two books left, and they are
Rose Gold (
#currentlyreading)
and the newly released 2016 book,
Charcoal Joe.
I'm sad to be finishing this series, but I'm happy to say it's still one of my favorite series by Walter Mosley. And I already have plans on reading his
Leonid McGill Series,
which consists of only 5 books after this one is done.
Blood Colony
by Tananarive Due is the third book in her
African Immortals
series that I had started last year. And I need to finish up this series, so I have also placed
My Soul to Take,
which is the fourth and final book in the series on my TBR for the month.
Sidenote: I am going to have to see how many series I have finished vs. those started this year, because I feel like I'm on a roll with this.
I will also be reading (#currentlyreading)
Imago,
the third and final book in the
Xenogenesis
series by Octavia E. Butler. The only reason why I hadn't finished this series last month was because I was waiting on my next audible credit to come through. I love listening to these on audio, and they also help with the pronouncing of the names, cause without it, I'd be lost.
Since I had read
Matilda
by Roald Dahl last month, I thought about reading another one of his children classics. Since my library had this one available on Overdrive I'm excited to say that I'll be reading
The Witches.
I remember watching the movie as a kid and being lightweight scared of it. So this one I plan to read at night to get the full effect.
The Name of the Wind
has been in the back of my mind for a while now and I think I am ready to read it. I know people have been gushing about this book what feels like forever. So yeah. I'm really hyped because now I'll be reading this book with Frankie at
FrankieReads
and Monica at
ReadsMonica
. This will be my first buddy-read and it's making reading this book all the more enjoyable.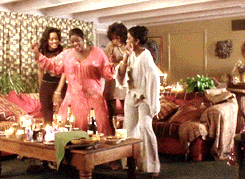 I first saw
Waiting to Exhale
right when it came out on VHS back in 1996! And since I came of age, my Mom has always sung it praise. She had read the book before the movie and has always been a big fan of it. Always telling me about how Gloria's part is bigger in the books. I love the movie, always will be a go to empowering movie. I brought the book back in April I have been meaning to one, tackle a Terry McMillan book and two maybe do a book to movie comparison. *shrug* #shegetsitfromhermama.
My last book, which I
want
to read, but not really sure if I'll be able to get to it or not is
The Shadow Speaker
by Nnedi Okorafor. Here is the synopsis from Goodreads:
In West Africa in 2070, after fifteen-year-old "shadow speaker" Ejii witnesses her father's beheading, she embarks on a dangerous journey across the Sahara to find Jaa, her father's killer, and upon finding her, she also discovers a greater purpose to her life and to the mystical powers she possesses.
This sounds like something right up my alley. If I get to it, I get to it. If not maybe it'll get pushed to next month.
What are you getting into this month, anything good? If you have read any of these book I'd like to hear about them, also tell me what books you are looking forward to reading this month. That's it for me.